MIPFly One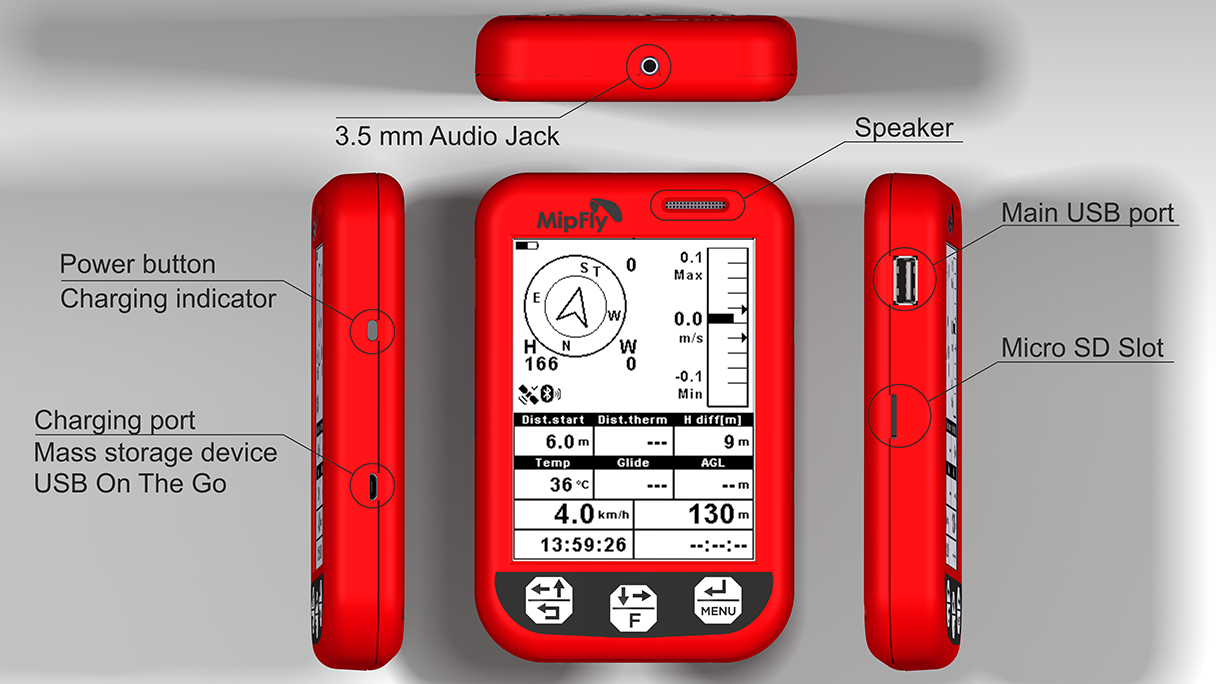 MIPFly One is a flight instrument born from the combined love of flight and electronics. It was designed with openess and expandability in mind, as one instrument for a large range of pilots.
The main platform of the variometer runs Linux so that further development on the device to be facile. This feature also enable us or anyone else who wants to contribute or to modify his/hers instrument to easily add new features. FULL SIZE USB ports adds a lot of hardware expandability possibility to the device, preflight or inflight, without the need to use a fragile microusb port.
The 4.4" screen readability of the device is incredible. Literary we spared no expenses on this part of the instrument. No compromise. You can keep the instrument with the sun directly reflecting into your eyes and still be able to read from it. Also the refresh rate of the screen is pretty good at 20 fps together with a wide range of working temperatures.
The sensor system on the device consists of two separate sub modules. One is the GPS system comprising of a high precision Ublox M8N receiver commonly used on drones because of it's performances together with a high sensitivity patch antenna. The second sub module is the real time pressure and sensor fusion system responsible for the vertical speed measurement, filtering and approximation by sensor fusion.
Hardware
Alwinner A20 dualcore microprocessor running at ~1GHz/core.
Ublox M8N GPS receiver with ceramic patch antenna.
High prescission pressure sensor + accelerometer, gyroscope and magnetometer for instant vario function.
Integrated Bluetooth module is standard package
Possibility to upgrade to bluetooth and WIFI options true internal USB port.
External full size USB for IO expansion and data synchronisation on any USB memory stick.
The device can also act as a charger even when the variometer is turned off.
6800 mAh battery for extended flight times.
240x320 monochrome LCD with high framerate and extremely good sunlight readability.
Screen diagonal size is 4.4", 89.6 × 67.2mm (true viewing area)
To see more features of MipFly check the software page.